On March 28, 2015, I did the coolest thing ever.
I've referenced it a couple times in my blog. It's been my fun fact for every ice breaker since then. And I've probably told you about it or mentioned if you've talked to me since then.
I gave a talk at TEDxYorkU.
But I never actually wrote a full reflection about it. So here we go. It's only a year late…1. Being Public
I've given presentations on social media presence and the idea of the public and private spheres of our life starting to merge. I've taken that into account as I've blogged for the last five years, both for Glendon and for different organizations. I've even been featured in videos online for Glendon and A&W. Heck, there's a recording of a Theatre Glendon play I did where I played a clown-dog-person… in my underwear. So you would think I've gotten used to my life as a public figure.
Okay, so I'm not Beyoncé, but I've definitely not been shy about living my life openly and publicly, even within my small circles. But, every time someone mentions that they have seen my talk, I'm always surprised. Especially if I had never mentioned it to them – like when one of my first conversations with my new boss was about how they had seen it. That was weird. I always get awkward and try to fight the urge (yet often lose) my inclination to squirm.
Having my TEDTalk available online, for anyone to see has been a completely new experience in being public. And the biggest reason is that I put my heart and soul in that TEDTalk. While in theatre I get to play a character, put on figurative and literal costumes, my TEDtalk was all me. And while crying on screen for A&W was me as well, that felt honest in a different way because it just happened – I spent hours working on my talk, making sure it was "me".
2. Being Your Own Critic
It's often said that people are their own worst critics. And I'm definitely a shining example of that. Every time I watch my talk online, I notice something new. A new stutter, a new improvisation I added, or a new awkward stance. And I criticize it more every time.
And I have started… am starting to… am trying to… want to try to to start to be nicer to myself, and learn from (what I consider to be) my mistakes in my talk.
I also ALWAYS notice how I completely skipped over one of my favourite lines of my talk…
3. Taking Your Own Advice
And that line was:
Our vulnerabilities are as much a part of our identities as what we're proud of.
And between learning how to have such an honest part of me on the internet, and learning how to take my mistakes during my talk, accept them and learn from them and even through writing this post, I'm realizing…
I just need to take my own advice.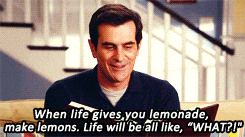 I need to take what makes me vulnerable about my talk (on vulnerabilities)—being public and being not 100% comfortable with how I delivered it— and learn from that. I need to know how to improve my public speaking, my confidence, and my comfort with being "in the public eye".
My goal was to have people, even just one person, take something away from my talk that day. And that person was me.
I am extremely proud of my talk. I am thankful for every piece of feedback I have gotten. I will forever keep that moment in my heart and in my mind. And in the year since my talk, I have grown so much and a lot has change, but one constant is that I, to this day, find myself going back to what I said on the TEDx stage that day, and using it try to move forward.
Thanks TED. (Until next time?)
—