Full disclosure: I had to WordReference the Spanish word for scary for my title. 
As I described in my latest blogpost, I mentioned how right at the end of summer I decided that I NEEDED to get my trilingual certificate because I have major FOMO and I have graduation goggles on, so I want to make sure that I get as much out of my Glendon experience as possible…
Because I haven't already?…
But I have.
5TH YEAR IS WEIRD EMOTIONALLY.
I'm good.
So yes, I'm currently doing SP 3000 and SP 2100, which is the advanced level in Spanish grammar and the introductory Spanish literature class. Which is utterly terrifying, because I haven't taken Spanish since 1st year… and I've been focusing on my French for the last few years, so trying to learn Spanish has taken a bit of a backseat. But I'm managing – the courses aren't difficult the way I thought they would be, but in much different ways.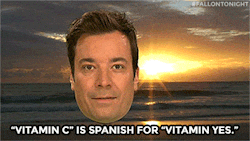 I'm finding my Spanish literature especially difficult. The reason being is that it's an introductory literature course. And I don't mean to toot my own horn, or seem all "I'm in 5th year, I know everything" but after completing my Drama studies requirements, and part of a French major (#tbt to when I was a French major), I know my way around a literary analysis. So trying to stay interested, but also at the same time, trying to remember that my Spanish isn't perfect, and that I should pay attention to pick up on vocabulary, and so that my papers for this class don't sound like a three-year-old wrote them is the goal this year.
Meanwhile SP 3000 is proving difficult for completely different reasons – trying to reconcile what I *think* I know about the Spanish language, what my professor is telling me and thinking about what I've heard my mom say makes trying to understand how the future tense can be used to speak about the past hard.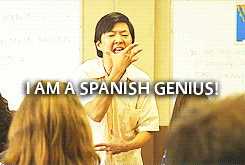 This year will be muy interesante as I go through these classes, and try to prepare myself to write the trilingual excellence exam. It'll be difficult and frustrating. But I really want to make sure I do well in these classes. Not only for my own professional and liguistic development but also personally to know that I faced a challenge, which I've been nervous about for a long time, and was able to succeed.
#inspiration #deep #5thyearwisdom #imold #byeeeeeeee #kgraciasadiossssss